General FAQs
Who should I contact if I have questions about the project or the process?

Feel free to contact the project team if you have any questions or concerns by calling/texting our hotline at 843.258.1135 or emailing us at info@526LowcountryCorridor.com. You can also visit us at the Community Office at 5627 Rivers Ave., North Charleston in Gas Lite Square. See office hours here.
What prompted this project?

This segment of I-526 LCC WEST has been identified by the South Carolina Department of Transportation (SCDOT) as one of South Carolina's more congested segments of interstate. High traffic volumes create considerable congestion during the weekday morning and afternoon peak commuting periods. Several factors are expected to compound this congestion, including the current trend of regional population growth, industrial expansion along the corridor specifically at the Charleston International Airport, and the opening of a new container terminal by the South Carolina Ports Authority.

Congestion increases the cost of travel, reduces productivity and competitiveness for our industries, and adversely affects the environment. Finding effective solutions for this corridor that are consistent with the needs of the community has become a statewide priority.
What are the priorities of the I-526 LCC WEST project?

Based on traffic analysis, the highest priority of the project is the improvement of the interchange between I-526 and I-26. This interchange is a bottleneck for both interstates, and improvements to the I-526 / I-26 interchange would provide the greatest improvement to operations on the corridor. While most of the I-526 corridor is either currently over capacity or projected to soon be over capacity, the other high-priority segments include the segment between I-26 and Virginia Avenue and the segment between Paul Cantrell Boulevard and Leeds Avenue.
What is the estimated cost for the I-526 LCC WEST project?

The I-526 LCC WEST corridor, including the I-526/I-26 interchange, currently has a project budget of $1.1 Billion. A priority network has been established to recommend phasing of the improvements, with the top priority given to improving the I-526/I-26 system-to-system interchange. As the preliminary alternatives are further refined, a cost and schedule workshop will be held in order to further develop cost estimates.
What is the funding source of the I-526 LCC WEST project?

The project is being funded by Interstate System Upgrade funds (federal and state). These funds, if not utilized for this interstate project, would not be available for other non-interstate projects in the region.
How is the Environmental Impact Statement (EIS) and preliminary engineering funded?

Approximately $21 million of National Highway Performance Program funds have been identified for preliminary engineering. The funding is identified in the Statewide Transportation Implementation Program, or STIP. As the project scope is defined through the EIS process, an appropriate project budget will be developed. Additional funding sources will be identified, and funding allocations will be sought throughout the development of the project.
What is the current status of the I-526 LCC WEST project and What happens next?

SCDOT, in cooperation with the Federal Highway Administration (FHWA), has initiated the development of an Environmental Impact Statement (EIS) to address the existing and anticipated traffic volumes on the I-526 Lowcountry Corridor and the connecting roadways. The project team presented the reasonable alternatives to the public during the fall of 2019 for review and comment and asked for your comments on the recommended preferred alternative, Draft EIS, and DRAFT Community Mitigation Plan as part of the public hearing this year.

Based on your input, our project team is already making some improvements to the Recommended Preferred Alternative. For example, we have added a retaining wall beside Ashley Harbor to avoid impacting the neighborhood trail. In North Charleston, we identified the need to replace the I-26 mainline bridge over the Norfolk Southern railroad and LaCross Road. As part of mitigation for impacts to the adjacent communities of Liberty Park and Highland Terrace, a pedestrian bridge would be constructed over the railroad and a multi-use path would connect to the south end of the pedestrian bridge.

The team will further revise the recommended preferred alternative and finalize the Environmental Impact Statement (EIS), and Community Mitigation Plan to address public concerns and minimize impacts. The goal is to finalize the environmental process with the issuance of FHWA's Record of Decision (ROD) at the end of 2021 and move to right-of-way acquisition and community mitigation.
What is the construction timeline for I-526 LCC WEST project?

SCDOT's intent is to implement the community mitigation items, specifically the construction of replacement affordable housing, before right-of-way acquisition and construction are initiated. Right-of-way acquisition is expected to begin in 2024 and go through 2027, and mitigation efforts are expected to begin as soon as 2021. Because of the need to ensure displaced families have access to housing in the community, the construction would not likely begin until 2027 and would likely last until 2032. All of these dates are contingent on the environmental document being approved with no legal challenges.
Has there been a safety analysis of the corridor?

Safety is always a top priority of the SCDOT. The project team compared the actual number of crashes that occurred in the study area from 2011 to 2015 to the number of crashes per mile that would normally occur along a roadway of this type.

The number of crashes exceeded the anticipated number for every interchange except West Montague Avenue. The locations of the crashes, collision type, severity of each crash, time of day, and contributing factors were all part of the analysis.

In most cases, the number of accidents exceeded the predicted number. Over the five-year period, there were approximately 2,907 reported crashes in this segment of I-526. This includes crashes near the I-526 ramps on I-26 and nearby arterial streets. Of these, 29 were head-on, 509 were sideswipes, 267 were angle, 1,460 were rear-end, and 642 were single vehicle collisions (refer to Figure 1).

Figure 1: Types of collisions (2011-2015)

There were ten fatal and 712 injury accidents during that time.

The high number of rear-end collisions is attributable to congestion, pointing to the time of day when most of these collisions occur (refer to Figure 2).


Figure 2: Time of day for collisions (2011-2015)

Single vehicle accidents can be caused by several factors, but the locations of these accidents often indicate conditions where the curvature of an exit ramp requires rapid changes in speed. Sideswipe crashes tend to occur when there are inadequate gaps for merging, and angle accidents are most common at ramps.

Why did the project terminus, or end point, change from Rivers Avenue to Virginia Avenue?

During traffic analysis, the project team noticed a significant number of accidents at the North Rhett/ Virginia Avenue interchange. To ensure the greatest return on investments for improvements to the I-526 corridor, the I-526 LCC WEST project's limits were extended east to include the North Rhett/ Virginia Avenue interchange.
What is the difference between the I-526 Lowcountry Corridor project (I-526 LCC) and the Mark Clark Extension project?

The I-526 Lowcountry Corridor project focuses on improvements to the EXISTING I-526 roadway network, from Mount Pleasant to West Ashley. The Mark Clark Extension project would pick up at approximately the end of existing I-526 in West Ashley and connect the communities of Johns Island and James Island. For more information on the Mark Clark Extension project, visit www.SCDOTMarkClark.com.
If the Mark Clark Extension is constructed, would widening still be necessary since I-526 would no longer dead-end at Savannah Highway?

Yes. Construction of the Mark Clark Extension does not affect the total forecasted traffic volumes enough to change the number of lanes needed on existing I-526. Our analysis indicates the effects of the Mark Clark Extension are fairly minimal to I-526, actually increasing traffic over the Ashley River by approximately 8.7% in the westbound direction, and 2.9% in the eastbound direction. 
If I signed in at the meeting will I be kept informed about future project meetings and milestones?

Not necessarily. Due to anti-spamming laws, SCDOT does not automatically add attendees to our email update list unless there was a specific question that asked if you would like to receive updates. While we may occasionally mail documents through USPS, we encourage you to sign up for updates on our Stay Informed page to receive all updates.

For project updates follow us at facebook/@526Corridor or on Twitter at @526Corridor.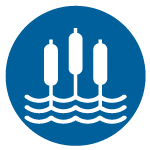 Environment FAQs
Will the increased roadway pavement cause flooding issues?

SCDOT recognizes that additional pavement means rainwater accumulates faster and has the potential to adversely impact property along or downstream of the highway and is designing stormwater management facilities to address this concern. The project website includes a map that shows the approximate limits of new right of way that would be acquired by SCDOT. Much of this additional space is needed for stormwater facilities, including larger ditches or ponds to store the additional rainwater runoff generated by the additional pavement. These storage facilities would allow water to be released at or below the current rate and allow sediments to settle out before the water leaves the right of way. The map showing the additional right of way (shaded in orange) is located here.
How will concerns about increased flooding of Filbin Creek be addressed by this project?

The project team is currently conducting detailed hydraulic studies for the project. The team is identifying land upstream of Filbin Creek that currently floods. The goal would be to divert this stormwater runoff to basins where it can be stored until water levels in Filbin Creek lower. The team is also looking to see if there are elements that may be causing restricted water flow along the creek, that if removed, might lower water levels in the creek.
How will the project minimize and mitigate impacts to wetlands?

Field visits have been conducted to document the potential Waters of the United States, including wetlands within the project study area. After efforts to avoid and minimize wetland and stream impacts are considered, SCDOT will mitigate for unavoidable impacts to these resources.
What are the potential environmental impacts to air quality as a result of this project?

A quantitative air quality analysis was performed for criteria pollutants including carbon monoxide and fine particulate matter, as well as for mobile source air toxins for the entire project corridor. The analysis showed the greatest vehicular impact to air quality would be in the vicinity of the I-526/I-26 interchange because this area has the highest number of cars passing through. Since more stringent vehicle emission requirements are anticipated in the future, the air quality impacts of vehicle emissions are expected to drop between 2015 and 2050—WITH or WITHOUT the project. However, with the I-526 Lowcountry Corridor WEST project, these emissions are anticipated to be even further reduced because of fewer idling vehicles as a result of the improved mobility and reduced congestion the proposed improvements would bring.
Will any threatened and endangered species be impacted by the project?

The project would not adversely affect any plants or animals protected under the Endangered Species Act. Special conditions would be in place during construction to protect marine wildlife such as manatee and dolphin. Incidental impacts to common wildlife species are expected to be minor, as most bird, mammal, reptile, and amphibian species would avoid active construction areas.
Noise FAQs
How will the I-526 LCC WEST project address potential traffic noise?

All projects that add capacity to a corridor are required to perform noise studies during the development of the project. Noise measurements have been taken along the corridor and a detailed noise analysis is currently underway. At the public hearing in late 2020, the project team will present the noise analysis findings and any proposed locations of noise barriers for public input. The determination of whether a noise barrier is feasible and reasonable on a project is a process performed in accordance with the SCDOT Noise Policy which is available here.
How is traffic noise evaluated?

For the first step in the process, SCDOT experts go to homes, churches, businesses, or other places that may be affected by a proposed highway project and use special equipment to monitor existing noise.

Next, complex computer modeling is used to predict expected noise changes at these locations once the road is built and traffic increases.

Then, it must be determined which noise-sensitive locations were permitted before the Date of Public Knowledge and, therefore, are eligible for noise reduction.

If the anticipated noise increase is MORE than the level defined by SCDOT policy, we begin to consider possible ways to reduce the noise, such as with noise walls and earth berms, at all eligible locations.
When are noise walls considered?

Whenever a highway project uses federal funds and meets the Federal Highway Administration's (FHWA's) criteria of a Type I project, the potential for increased traffic noise and how to reduce it must be evaluated. For all Type I projects where traffic noise impacts are predicted, noise abatement (typically in the form of noise walls) must be considered.

Potential traffic noise increases are evaluated for any building permitted before the "Date of Public Knowledge."
What is the "Date of Public Knowledge"?

This is the date that the public (and local government) is notified of the future path of the road and is the date of approval of the Categorical Exclusion (CE), the Finding of No Significant Impact (FONSI), or the Record of Decision (ROD).
Are there alternatives to noise walls?

Other options may also help reduce traffic noise. Some of these may be provided by SCDOT, and others are alternatives that might be considered by private developers or homeowners.

Land use design – if homes are set back from the road or are separated from the road by other development, the noise levels may be lower.
Noise berm (earth or other materials) and combination berm/wall systems
Types of vehicles/speed limits – noise can be reduced with lower speed limits and truck restrictions on a road. However, reducing the speed limit below the appropriate speed based on the design will have only a moderate effect on traffic noise and may actually increase the number of accidents on the roadway
Building insulation – noise insulation in buildings, such as replacing doors and windows or adding insulation to walls and attics
When do noise walls work?

Sounds travels very much like water or light. It follows the easiest path over, under, and around things in its path. The farther away from the source of the sound, the lower the noise.

Noise walls do not work if the source of the noise can be seen. The noise will simply travel through that opening much like water will flow through a crack in a dam. If a building is located higher than a noise wall, the noise will flow over the wall to the building.

The graphic shows two examples of noise walls located between buildings and a road. In both cases, the wall will shield one of the houses but will not shield them all.

Noise walls do not completely eliminate all noise.
How does SCDOT decide which communities get noise walls and which do not?

Once SCDOT has completed the technical evaluation, they also consider the following questions:

Will a noise wall reduce the noise enough to justify its construction? Sometimes, a noise wall will not reduce the noise enough to be considered reasonable and/or feasible.
Is a noise wall technically feasible? Every road is different, many factors are considered such as topography, safety, drainage, utilities, maintenance of the wall, and whether driveways and side road access will be impacted.
How many people will hear a difference in noise? Is that number high enough to justify the cost? Sometimes, the cost is too high to build a wall when compared to the benefits received.
Does a simple majority of property owners and tenants who receive a predicted noise level reduction due to construction of a noise wall actually want the wall? Public preference for or against a wall is obtained through a balloting process.
What assurances are there that noise impacts will be considered and that noise walls will be built where needed?

Federal regulations require SCDOT to conduct noise studies and consider the impacts of a highway expansion project on nearby residents when a project is developed with federal funds. SCDOT's Noise Abatement Policy describes the process that SCDOT uses to determine the reasonableness and feasibility of constructing noise walls.

To learn more about how SCDOT considers noise impacts during the project development process, we invite you watch the "Highway Traffic Noise" educational video.
Why was a noise barrier not constructed on Interstate 26 as part of the 2008 widening and interchange improvements at Remount and Aviation?

The construction of noise barriers on federally funded projects depends upon a number of factors including engineering feasibility, sound level reduction, cost, and public input. The noise analysis for the 2008 project determined that a noise barrier was not reasonable due to prohibitive costs. However, SCDOT would be required to evaluate noise impacts and assess the need for noise barriers if I-26 is widened in the future.
Where are we in the SCDOT noise analysis process? What happens next?

A detailed study of anticipated changes in noise resulting from the project was conducted to determine if and where potential noise mitigation strategies were needed. SCDOT evaluated noise impacts within the corridor in accordance with federal guidelines and the Department's noise abatement policy. As a result of this evaluation, noise barriers are proposed at the following locations:

West side of I-526 between Paul Cantrell Boulevard and Ashley River Road in West Ashley
West side of I-526 between Ashley River Road to north of the Middletown Cove Apartments in West Ashley
East of I-526 and between Paul Cantrell Boulevard and Ashley River Road in West Ashley
East of I-526 between Ashley River Road and the Ashley River in West Ashley
I-526 Eastbound between International Boulevard and I-26

Final recommendations on noise wall construction will be made upon completion of the project's final design and the public involvement process.

Please note, noise walls require direct input from those potentially benefitting through a balloting process to document if the wall is desired or not. The balloting process may include flyers, door-to-door surveys, or a mailing. For non-owner-occupied benefiting properties, both the property owner and the renter may vote (one ballot each). If fully supported, the noise wall will be incorporated into the final project design. More information on this process will be provided in the coming months to those residents and property owners considered "directly benefiting." Final recommendations on noise wall construction will be made upon completion of the project's final design and the public involvement process.

In locations where the construction of noise walls does not meet SCDOT's criteria for feasibility and/or reasonableness, alternative noise abatement measures are being considered, including quieter bridge expansion joints and new technology in quieter concrete surfaces.
What about any impacts to my property value because of the potential increase in noise as a result of the widening?

A noise study is conducted during the Environmental Impact Study (EIS), and if warranted a noise barrier or other noise-reducing technique is included during the plans' development stage. The right-of-way appraisal does not address devaluation due to noise because the environmental study has already determined the level of increase or lack thereof and made a decision as to a cure. Therefore, there is no compensation for noise.
Sometimes, homeowners may mention the vegetative buffer being destroyed during construction at their appraisal interview. In some cases, this is used as justification and an adjustment is made to the settlement amount to possibly cover the cost to replace trees and or shrubs.
NEPA FAQs
What is the Recommended Preferred Alternative and where can I see what is proposed?

The Recommended Preferred Alternative was identified because of the lower number of relocations, fewer potential impacts to traditionally underrepresented populations, lower impacts to wetlands and streams, improved operations, and the ability to resolve a high number of existing roadway deficiencies. The Recommended Preferred Alternative includes Alternative 2A from Virginia Avenue to Rivers Avenue, Alternative 2 from Rivers Avenue to International Boulevard, and Alternative 1 from International Boulevard to Paul Cantrell Boulevard. View a full fly through of the Recommended Preferred Alternative and see how the interchanges will work here.
When will we know what the impacts to us are going to be?

The Recommended Preferred Alternative was presented to the public as part of the Public Hearing and shows potential property, community, and environmental impacts. To determine if your property is within the project Right-of-Way you can visit this website to type in your address.

Any property within the orange shading will likely be acquired by SCDOT for the I-526 LCC WEST project. If your property is within the orange shading on this map or if you have any questions regarding impacts, please call or text the Community Office at 843-258-1135 for an appointment with a Right-of-Way specialist.
Can the project be stopped? What sort of things can stop it?

SCDOT is committed to serving the public of South Carolina in a fair and equitable manner. The I-526 Lowcountry Corridor is one of the most congested interstates in the state of SC and requires improvements in order to efficiently serve the travelling public. However, SCDOT highway projects are developed in a manner that involves all members of the public in review and consideration of all potential alternatives available to meet the purpose and need of the highway while trying to balance this goal with minimizing impacts to the natural and human environment in the community.

One of the alternatives considered would be a "no build" alternative which could result in no improvements to I-526 but would also result in increased traffic congestion. The community's input is vital in communicating the preferences of the community and the identification of opportunities to enhance the transportation network in a manner that is sensitive to the needs of the surrounding communities. SCDOT encourages the public to communicate with our project team so that we can identify the solution or alternative that best serves the needs of the entire community.
What is Environmental Justice and how is it applied during the process?

Environmental Justice (EJ) is based on an Executive Order that requires the fair and equitable treatment and meaningful involvement of all people regardless of race, color, national origin, or income, with respect to the development and implementation of a federal project. Fair treatment means no group of people should bear a disproportionate share of negative environmental consequences. Meaningful involvement means the following:

People will have an opportunity to participate in decisions that may affect their environment and/or health;
The public's contribution will help influence the agency's decision and mitigation for impacts, if needed;
Community concerns will be considered in the decision-making process; and, decision makers will seek out and facilitate the involvement of those potentially affected.

SCDOT is committed to developing the I-526 Lowcountry Corridor WEST project in a manner that will ensure the fair treatment and meaningful involvement of all people. SCDOT will continue to include community outreach during the development of the project so that the communities are informed of the project at every phase of development. SCDOT will also work with the potentially impacted communities to ensure they have a voice in the project alternatives and any mitigation that SCDOT may propose for the impacted communities. We encourage you to stay engaged with us over the next several months as we continue to refine the DRAFT Community Mitigation Plan and flesh out the Community Infrastructure Enhancement Plan. To learn more, please visit our Community Commitments webpage where you can also share your insights and concerns in our community forum.
Right-of-way Acquisition FAQs
What would happen to residents if they were displaced by this project?

SCDOT is actively pursuing replacement housing for residents who would be displaced by the I-526 LCC WEST project. We follow the Uniform Relocation Assistance & Real Property Acquisitions Policies Act of 1970, which protects property owners' and renters' rights and ensures everyone is treated fairly and equitably during property acquisitions. SCDOT will work to identify housing that is safe, decent and sanitary and meets the functional needs of the displaced family to include accommodations for disabilities. Those residents whose homes would be impacted are encouraged to make an appointment with one of our Right-of-Way Specialists to discuss relocation opportunities. Residents should call or text the Community Office at 843-258-1135 for an appointment.

SCDOT has a short video which explains the Uniform Act and outlines how the right-of-way process works. SCDOT desires to be fair and reach an amicable settlement in all right-of-way transactions, as we know that these acquisitions are an inconvenience to the landowners and renters.
What is the process for determining the project footprint or what homes and businesses the project will impact?

SCDOT roadway and bridge improvement projects are planned and developed through an extensive environmental review process, in accordance with the National Environmental Policy Act (NEPA). During this environmental review process, SCDOT performs environmental and community surveys and evaluates all the potential project alternatives that could be considered to meet the purpose and need of the highway improvements. SCDOT seeks to find the project alternative that strikes the best balance between meeting the needs of the highway and minimizing the impacts to the natural and human environments.

Community impacts, such as right-of-way impacts and property owner relocations, are considered as a part of the NEPA process. The public and potential impacted communities will be engaged throughout the NEPA process to gather input on the proposed project alternatives. View more on community mitigation and to learn how to get involved by viewing our Community Commitments webpage.
What is Right-of-way (ROW) and what law do we follow when buying ROW?
When does the ROW process start, and how does it work?

The official right-of-way (ROW) acquisition process does not typically start until the NEPA process is completed and a NEPA decision has been issued by the Federal Highway Administration (FHWA), who is overseeing the project. If a build alternative is selected, SCDOT will develop the final ROW plans for the project. Once ROW plans are finalized, the plans will be provided to the SCDOT ROW agents and ROW acquisition activities would begin in the steps outlined below.

ROW agents will perform research on properties that need to be acquired for the project to confirm ownership and secure property records. Appraisers evaluate properties as if projects were not occurring which means projects don't impact appraisal price.

Next, the agent will contact the property owners individually to discuss the project, explain the ROW acquisition process, gather information about the property, and gather information to determine the relocation benefits eligibility (if applicable).

The agent will prepare a cost estimate (for properties valued at less than $20,000) or order property appraisals in order to establish the fair market value of the property. Real estate appraisals are performed by licensed South Carolina appraisers who are certified general real estate appraisers. The property owner will be contacted by the real estate appraiser in order for the property to be inspected. The property owner will be given the opportunity to be present during inspection of the property and be able provide information concerning the property or recent property sales in the area to the appraiser.

Once the appraisal is completed and approved, then the agent will prepare an offer and relocation benefits package (if applicable) that will be presented to the property owner. The agent and the property owner will negotiate based on a written offer that will be provided to the property owner.

While this is the normal process, FHWA does allow some early ROW acquisition activities under certain special circumstances. SCDOT must prepare a detailed proposal and seek FHWA approval for any early or advance ROW activities. These advance ROW acquisitions are usually limited to those properties that would be impacted by the project in the case of any of the alternatives being considered.
What are the options to the exercise of eminent domain through condemnation? What other things occur before SCDOT would take my house this way?

In the event SCDOT and the property owner are unable to negotiate a settlement, the South Carolina Eminent Domain Procedure Act provides a uniform procedure for condemnation of property for public use. The purpose of the condemnation process is to establish just compensation when two parties cannot agree on what fair market value should be for a particular property. There will be opportunities through this process to mediate a settlement before going to a jury trial.
What if I need to relocate but equivalent housing is not available?

When a highway project in South Carolina leads to people being relocated, a preliminary survey is conducted by SCDOT of the types of housing impacted and the availability of replacement housing in the area. The right-of-way agents working on the project will personally interview you if you are to be relocated and determine your relocation needs and preferences. You will be provided current and continuing information on the availability, purchase prices, and rental costs of comparable replacement housing. You are not required to choose the comparable replacement housing presented by the agent and can pick other housing units or move to other locations at your discretion. You cannot be required to move unless a comparable replacement housing option is made available by SCDOT. Comparable replacement housing must meet the following criteria:

Decent, safe, and sanitary.
Functionally equivalent to the acquired house with particular attention to the number of rooms and living space.
Large enough to accommodate the occupants.
Located in an area that is not subject to reasonable adverse environmental conditions, and not in an area that is generally less desirable that the acquired house.
Reasonably accessible to the person's place of employment.
Located on a site that is typical in size for residential developments with normal site improvements including customary landscaping.
Currently available on the market.
Within financial means of occupants.

SCDOT is currently reviewing potential opportunities to create or build replacement housing in the impacted communities since there is currently inadequate affordable housing inventory available in the Charleston market.
If equivalently priced housing is not available and the new housing costs more, who pays the difference?

Residents being relocated may be eligible for a replacement housing payment or supplemental rent payments if the comparable housing available costs more than your current home value or rent payments. The right-of-way agent will inform you in writing of the specific comparable replacement housing, the sales prices or rent used as the basis for establishing the replacement housing payment or supplemental rental assistance, and the basis for that determination. This is done to ensure you are aware of the amount of the replacement housing payment to which you may be entitled.
If the comparable replacement housing available on the market is priced higher (property appraised value or rent), the homeowner may be eligible for supplemental benefits for a period of time to cover this price differential, including increased mortgage interests costs and all eligible incidental expenses (such as closing costs). If you have questions about the relocation process or the benefits for which you may be eligible, visit our community office and make an appointment to meet with our Rights of Way Specialists. In order to discuss what relocation benefits you may be entitled to, our relocation agents will need information that is unique to you and your household.
What about the increased property tax associated with a more expensive home? Is there a mechanism for help or relief?

The comparable replacement housing offered to the property owner should be within the property owner's financial means, meaning the monthly payments and estimated average utility costs at the replacement housing does not significantly exceed their current payments. The property owner may be eligible for supplemental benefits or payments to cover price differentials in the purchase price or rent. However, this supplemental payment does not address the increased property taxes on the property. SCDOT's agent will inform the property owner of the estimated property taxes of any comparable replacement housing offered and ensure that the property owner is aware of this difference prior to any decisions regarding the replacement property.
If my house is to be taken, who pays to move me? What costs are covered/not covered?

Any individual, family, renter or business that will be displaced as a part of the project may be eligible for benefits under the SCDOT Relocation Assistance Program. The benefits package may vary based on the type of household and personal situation. The Right-of-Way (ROW) agent will meet with you to determine your relocation needs and preferences and explain the relocation payments and other assistance for which you may be eligible. These benefits may include assistance in finding comparable replacement housing, housing inspections, transportation to view housing options, advisory services, moving expenses, and supplemental payments for price differentials in comparable housing, incidental expenses, and/or rent supplements. Our team has ROW Specialists available to answer your questions and provide guidance based on your specific situation. Residents should call or text the Community Office at 843-258-1135 for an appointment.
What if I rent, not own?

All displaced persons, whether a property owner or a tenant, may be eligible for relocation assistance. The assistance available to tenants may include agent assistance in finding comparable rental replacement housing, transportation to view housing options if needed, advisory services, actual moving expenses, and supplemental rent payments. If a renter wishes to consider property ownership as part of the relocation assistance program, then the benefits payment could be used by a displaced person for a down payment and closing costs on a replacement house if desired. The displaced tenant should tell the agent their preference to consider home ownership after the relocation offer has been made so the agent can advise the tenant on this potential opportunity.
What if I am an owner, but not a resident?

Property owners will be contacted during the initial right-of-way acquisitions and provided with an offer of real estate purchase based on the fair market value of the property and any improvements on the property being purchased. If any housing on the property is vacant at the time of purchase, then relocation entitlement would be for personal property moves only. No replacement housing payment would be applicable to the property owner who does not reside on the property and is not being required to relocate as a result of the project, any tenants that have previously vacated the property prior to initiation of negotiations (written offer), nor any person who occupies the property after SCDOT acquires title to the property.
What if I am a business owner and you are impacting my business?

Businesses that are impacted by a highway project may also eligible for relocation benefits. Business owners may be eligible for moving expenses, relocation assistance for finding a new business location, searching expenses, and business re-establishment expenses. Right-of-way agents will work with each impacted business to identify their benefits eligibility and assist them in understanding their benefits package. Our team has ROW Specialists available to answer your questions and provide guidance based on your specific situation. Call or text the Community Office at 843-258-1135 for an appointment.
Why can't ROW for properties that would be within the 75-foot area currently needed for maintenance that was mentioned at the meeting be acquired now?

SCDOT is currently performing detailed right-of-way (ROW) relocation studies in the potentially impacted communities in order to identify potential opportunities to work with the community to advance some early ROW acquisitions and/or relocations. As SCDOT moves forward in refining the project alternatives, we will determine if there are properties that would be impacted with all available alternatives. At that time, we will explore with our federal project partners, FHWA, the potential for advanced Right-of-way activities and seek their approval for any proposals for advanced acquisitions.
How are you looking to minimize residential and commercial displacements along the I-526 LCC WEST corridor?

Finding the right balance between the project footprint and displacements is one of the most difficult challenges to any roadway project. If the footprint is minimized too much, it makes additional, needed improvements more difficult in the future. For instance, within this project study area, SCDOT does not have the traditional 75-foot right-of-way buffer surrounding the current I-526 LCC WEST corridor. Therefore, there will likely be residential and commercial displacement impacts. However, SCDOT will follow a fair and equitable process during right-of-way acquisition. For more information on the SCDOT right-of-way process, click here to see the right-of-way manuals.
How will I know if I'm in the path of the I-526 LCC WEST project?

If you think your property may be impacted by the I-526 LCC WEST project, which runs from Virginia Avenue in North Charleston to Paul Cantrell Boulevard in West Ashley, we encourage you to give us a call/text or come by our community office (843.258.1135, 5627 Rivers Avenue, North Charleston). While all maps and materials are available online, we are able to look up your address and confirm if you are in the path of any of the proposed alternatives and even provide the approximate distance. You can also determine if your property is within the project Right-of-Way by visiting this website to type in your address. If so, we can provide you with a one-on-one appointment with a right-of-way specialist to better understand the process and your rights as a property owner or a renter.
How do I learn more about relocation benefits?

To learn more about potential relocation benefits, we encourage you to give us a call or send us an email to schedule an appointment with our right-of-way specialists. Every situation is different, so it is important to speak one-on-one about your unique circumstances to better understand the process and your rights. This is true for homeowners, renters, and business tenants.
I live in Ashley Harbor and have concerns about the loss of amenities in my neighborhood. Can't we widen to the other side to avoid this?

In the current plan, SCDOT has placed a retaining wall in one location to avoid impacting the Ashley Harbor walking trail. Coupled with the new shift in alignment to the west at the Ashley River bridges, we are no longer anticipating any impacts directly to the Ashley Harbor walking trail or boat ramp facilities. However, SCDOT will be removing some trees between the walking trail and the highway for construction.
What types of mitigation will be done for those potentially impacted communities?

SCDOT has worked very hard to minimize impacts to the surrounding communities and to work with community members to develop a robust DRAFT community mitigation plan. It is important to understand that the right-of-way was minimized in the original construction of I-526 to such an extent that there are existing homes and apartments immediately adjacent to the existing interstate bridges. As it stands, we would not have enough room to simply replace the current bridges without relocating the first row of homes along I-526 between I-26 and Rivers Avenue. Therefore, further minimization of right-of-way impacts in this area would be impossible without entirely relocating the interstate (which would likely result in even greater impacts due to dense development in this region.) Our only feasible alternative is to mitigate for these unavoidable community impacts in a fair and equitable manner.

The proposed environmental justice community mitigation plan focuses on mitigating for direct impacts (such as relocations) and also indirect impacts, such as impacts to quality of life for those in the community that are not relocated. SCDOT also does not want to minimize the rights of way so much that we create a lower quality of life for those homes closest to the interstate. Thus, we must find balance with these decisions in order to preserve the character of the community for those that would remain after the project is complete. We have worked with community members to formulate the proposed DRAFT Environmental Justice Community Mitigation Plan outlined on our Community Commitments webpage.

This plan includes 100 affordable rental housing units in the City of North Charleston (88% of the relocations are currently rentals). Additionally, we have secured 12 single-family lots within the potentially impacted communities for affordable, single-family housing. We will continue to secure vacant lots within the potentially impacted communities over the next year to provide replacement housing options. As we develop the final Community Mitigation Plan, we will formulate a more detailed plan on how these lots will be developed into replacement housing. The DRAFT Community Mitigation Plan currently represents over $30 million dollars in commitments to the potentially impacted communities. The Environmental Justice Community Mitigation Plan will be a component of the Final Environmental Impact Statement, and thus will be required to be funded and implemented by SCDOT with the project.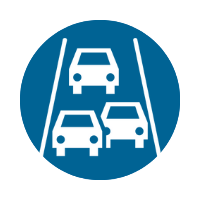 Alternatives and Traffic FAQs
Can SCDOT mandate that all trucks and other large vehicles stay in the right lane?

Truck restrictions have already been implemented throughout South Carolina on interstates having more than two lanes of travel in one direction. Truck restrictions are enforced by the SC Department of Public Safety. Field observations indicate that most large trucks prefer to travel in the right lanes by choice, probably due to better visibility on the driver's side of the road.

However, truck restrictions would be virtually impossible to enforce on two lane sections because vehicles have to be allowed to pass. Such restrictions are possible on multilane sections because trucks still have the capacity to pass slower moving vehicles legally. In addition, restricting trucks to one lane would reduce the capacity of that lane to an unacceptable level and effectively create a one lane interstate for other traffic at certain times.
Can you better explain the "No-Build" Alternative? What might the result be if nothing is done?

The No-Build, or do nothing, alternative is always evaluated as part of the National Environmental Policy Act (NEPA) alternatives evaluation process to provide a baseline for comparing potential benefits and environmental impacts of the other alternatives. The No-Build Alternative refers to the option to not make any improvements, leaving the corridor as it currently is.
However, there are considerations for the No-Build, as well. For instance, if no improvements are made, future traffic congestion would continue to worsen. Today, travelers of this corridor are already experiencing several areas with unacceptable delays, congestion and the inability for backups to clear. This type of congestion can lead to increased safety concerns such as more frequent crashes. Additionally, new infrastructure such as widened shoulders, updated electrical and internet systems and bridge structures that can accommodate modern overhead signs would be required to incorporate this type of future "active traffic management." This means in the No-Build Alternative, we would be unable to incorporate managed lanes or other congestion management technologies that support alternative forms of transportation for single passenger vehicles to reduce traffic congestion.
How do these alternatives fit into a broader transportation and development strategy that moves us away from cars and toward other forms of transportation?

With the growth and future travel demands in this region, the SCDOT knows that simply adding capacity is not going to be the sole, long-term solution for congestion in this corridor. However, there are many basic infrastructure needs that must be addressed in order to implement new technologies known as "Active Traffic Management." These strategies, such as variable speed limits, ramp metering, managed lanes and opening up shoulders during peak times, not only require additional lane capacity, but also other new infrastructure such as upgraded electrical systems and internet capabilities. The current alternatives presented "pave the way," quite literally, for these types of future alternative traffic management strategies.
With the current level of truck congestion on existing I-526, and the construction of the new Leatherman Terminal under construction, have you looked at the potentially increasing number of trucks?

Yes. SCDOT has been evaluating the impacts of the various projects in the region. The I-26 Corridor Management Study team was tasked with documenting the existing baseline conditions along I-26 in the Charleston area and developing a plan to meet current and future needs. SCDOT has been evaluating factors that affect traffic and developed a plan that looks beyond infrastructure improvements. The goal was to include strategies that lessen travel demand or shift the demand during peak traffic periods.
Will the I-526 LCC WEST project team consider a bike/ped path like the one over the Ravenel bridge?

Last fall, Secretary Hall committed to accommodate a 14-foot, regionally planned shared-use path along the I-526 corridor at the major river crossings of the Ashley, Cooper, and Wando Rivers. While pedestrians and cyclists are not normally allowed on interstates due to safety risks, the Federal Highway Administration has allowed these paths to parallel the interstate along major river crossings in other states to make critical, regional connections across large waterways. For the I-526 LCC WEST, we have modified our bridge widening designs for the Ashley River and have been working with the Berkeley Charleston Dorchester Council of Governments (BCDCOG) and local municipalities to accommodate their recommended pathway alignments for that location. Currently, there are no public bike and pedestrian accommodations on either end of the Ashley River I-526 bridge, so additional planning will be needed. BCDCOG is leading the planning effort with local municipalities and organizations like Charleston Moves to refine the local plans for the regional connections to this shared use pathway.

SCDOT will continue to assist the local agencies in accordance with SCDOT's new complete streets policy. For safety reasons, SCDOT and FHWA recommend that pathways be located behind the controlled-access fence once transitioned off the interstate bridges over the major rivers. The future alignments for shared use pathways should be decided by the local entities that desire to own and maintain these recreational trails in the future. SCDOT will commit to identify any surplus rights-of-way from the I-526 project that may be preserved for the local pathway connections in the future.
Will adding more lanes just increase the traffic on I-526?

Regional traffic models, as well as rush-hour observations, indicate that because of congestion, commute times have increased. The primary result of adding more lanes would be reduced travel times for those currently using I-526. Those currently using other, longer routes for their commutes, because of the congestion and frequency of crashes on I-526, may choose to use I-526 in the future. This hidden or built up traffic demand consists of trips that are not new, but will be attracted to I-526 with added capacity. This is accounted for in the project's future traffic forecasts.
Will the project be obsolete by the time it is completed? Will it keep up with the growth in the region?

Typically, SCDOT's goal is to build a project that will still function efficiently approximately 20 years after completion of construction. For this project, we're designing a project for 2050. When SCDOT designs a project, several factors, such as current and future land use, are analyzed to estimate the future use of the roadway. To do so, we coordinate with the Charleston Area Transportation Study (CHATS), the local transportation planning organization, to include future uses of the roadway and regional growth trends. That analysis is then used to design the facility (roadway, bridge, etc.) to accommodate the estimated future traffic capacity.
Why does Glenn McConnell only have a partial interchange concept?

The Glenn McConnell Parkway and Magwood Drive intersection causes traffic to back up over three miles on I-526, crossing the Ashley River and beyond Leeds Avenue. This also prevents other vehicles from moving along I-526. To eliminate this bottleneck, the concept includes a bridge over Magwood Drive at Glenn McConnell, but only in the westbound direction, which would prevent traffic from backing up onto the interstate. This meets SCDOT's project goals to improve operations on I-526. The concept is adaptable to a full interchange improvement in the future, if additional funding becomes available.
Couldn't SCDOT eliminate the need for widening the West Ashley portion of I-526 if you simply fixed the interchanges with Paul Cantrell Boulevard and US 17?

The traffic entering from Paul Cantrell Boulevard to eastbound I-526 (going toward North Charleston) is at a point of unacceptable levels of congestion with a high concentration of crashes. This merge point is a key bottleneck for the interchange, and for eastbound traffic on I-526. The added eastbound lanes that begin at this point in the build alternative eliminate this problem and are a part of this interchange fix. Traffic studies indicate I-526 needs a two-lane exit ramp in the westbound direction to Paul Cantrell Boulevard, and three lanes beyond.
What is the difference between Alternatives 1/2 and Alternatives 1A/2A for the I-526 and I-26 system-to-system interchange? What does this mean for access to Rivers Avenue?

Because the Rivers Avenue and I-26 exits are so close, these interchanges needed to be evaluated together. Therefore, the I-526/I-26 alternatives include the Rivers Avenue interchange. The difference between Alternatives 1 and 1A is the same difference as between Alternatives 2 and 2A – how they handle access from Rivers Avenue to I-26. Alternatives 1 and 2 prevent those getting onto I-526 at Rivers Avenue from getting off at I-26. Alternatives 1A and 2A maintain the access that exists today, allowing vehicles to merge onto I-526 and then immediately take the next exit to I-26. However, this is accomplished by replacing the current ramps with new ramps designed to handle more vehicles more smoothly by eliminating the tight curves along those ramps. During the next stage of the alternative evaluation process, the project team will conduct a detailed environmental impact analysis for each alternative and analyze the traffic and safety consequences of keeping or removing the access from Rivers Avenue, along with the right-of-way impacts associated with each.
I am concerned about the amount of truck traffic that may be added to North Rhett Avenue under both draft reasonable alternatives shown at the public meeting. Will this worsen the traffic on North Rhett Avenue?

As a result of public and agency feedback on the two alternatives presented at the public meetings for the North Rhett and Virginia Avenue interchange, the project team developed three additional alternatives called North Rhett/Virginia Avenue Alternatives 2A, 5, and 6. Alternative 2A is the Recommended Preferred Alternatives and it recognizes the increasing large volume of trucks between the existing Virginia Avenue exit and North Rhett Avenue interchange with I-526. It would not require that traffic go through North Rhett Avenue to access I-526. To view the Recommended Preferred alternative visit this section. If you have questions about any of the Recommend Preferred Alternatives, we encourage you to visit our Community Office.
Why can't SCDOT just convert an existing lane to a bike, carpool (HOV) or truck lane instead of widening?

SCDOT studied the application of managed lanes, such as carpool and high occupancy toll lanes (HOT), on both I-526 and I-26, to offset the general capacity widening needs. A carpool or HOV lane must have two or more occupants in their vehicle. A HOT lane requires the vehicle to have either two or more occupants or to pay a toll for use. A regional approach involving a connected system of managed lanes between both interstates would be necessary to attract the needed users. Such a system would have to extend west on I-26 a long distance, possibly as far as University Boulevard. HOV and HOT lanes are only successful when humans shift their behavior to riding with more than one person in a vehicle or pay a toll. Other limitations include the space required to access the managed lane system.
State requirements do not allow SCDOT to convert an existing general purpose lane to a managed lane, nor do they allow bike traffic to intermingle with interstate vehicular traffic.Even if it were a possibility, converting one lane to a managed lane would reduce the number of general flow lanes down to one. This would cause an unacceptable slow down, potentially even gridlock.
On I-526 west of I-26, trucks are only approximately 5% of the total traffic and approximately 12% of the total traffic east of I-26. While trucks do affect overall operations because of their size, designating one lane for trucks and the single, remaining lane for 87% to 95% of the remaining traffic would result in system gridlock.
To accommodate any of these types of alternatives, an investment in additional infrastructure and lane widths is required. As part of the proposed widening alternatives, twelve-foot shoulders are included to provide the needed future infrastructure to implement these types of alternatives.
Will there be an HOV Lane?

The proposed improvements on I-526 LCC WEST include a mainline widening to 8 lanes with 12 ft inside and outside shoulders. This footprint would allow for efficient movement of emergency vehicles on the wider shoulders during events. SCDOT is continuing to evaluate future congestion management strategies as we consider the operations of the entire corridor (WEST and EAST combined). We are in the process of completing traffic studies and modeling for the I-526 LCC EAST segment, which will include modeling alternative congestion management practices. As we move forward, we will continue coordination with BCDCOG for the local transit framework to determine how bus lanes or managed lanes may enhance local transit and/or expanded bus operations. Once we determine the strategies that provide the best operations, then SCDOT will evaluate the feasibility of potential future implementation of this strategy on the entire corridor. SCDOT intends to proactively plan for the appropriate strategies and ensure the upgraded infrastructure being proposed for the WEST project could support the future implementation.
Are there transit improvements proposed in this project?

While there are no direct transit improvements associated with the I-526 Lowcountry Corridor WEST project, SCDOT is continuing to evaluate future congestion management strategies as we consider the operations of the entire corridor (WEST and EAST combined). We are in the process of completing traffic studies and modeling for the I-526 LCC EAST segment, which will include modeling alternative congestion management practices. As we move forward, we will continue coordination with BCDCOG for the local transit framework to determine how bus lanes or managed lanes may enhance local transit and/or expanded bus operations. Once we determine the strategies that provide the best operations, then SCDOT will evaluate the feasibility of the potential future implementation of this strategy on the entire corridor.

The timing of implementing alternative congestion management strategies, such as managed lanes or Active Traffic Management Infrastructure requires complex planning and a calculated implementation plan. It requires new technologies and equipment to be installed in coordination with additional lane management or restriping. If an operational management strategy is implemented before the demand dictates, then these strategies may be underutilized, and the public may perceive the operational strategy is a failure.

SCDOT's intends to proactively plan for the appropriate strategies and ensure the upgraded infrastructure being proposed for the WEST project can support the future implementation.